'We Failed To Act': Joe Biden Slam by Critics For Failure On Afghan Evacuations
"To be quite candid, this situation absolutely could have and should have been avoided," said one refugee group.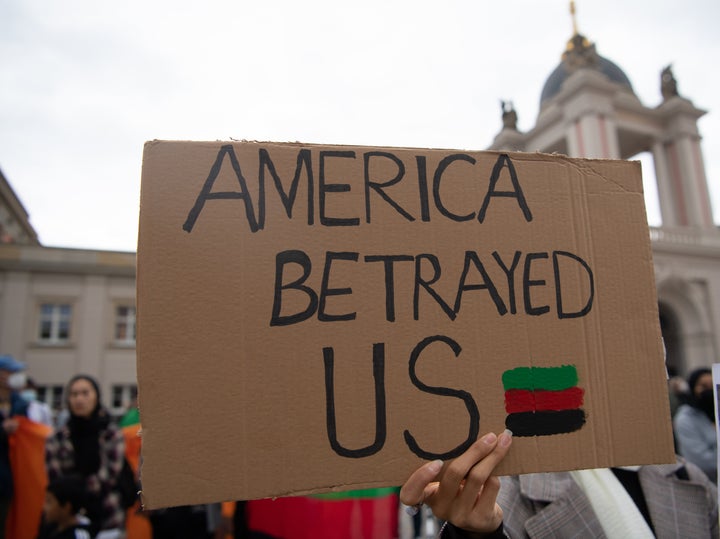 Refugee groups and  Democrats are blasting President Joe Biden's administration for its handling of evacuations from Afghanistan, and for not moving more quickly to help refugees and other vulnerable groups as Taliban takeover seemed imminent.
Afghanistan's capital, Kabul, plunged into chaos this week as the Taliban seized control of the city. The last American troops were set to leave the country in the coming weeks, in what was supposed to be the end of a 20-year war.  Disturbing photos circulated online Monday show Afghan civilians and families clinging to a U.S. military plane as it took off, with some falling to their deaths. Another image showed more than 600 Afghans packed on a flight to the U.S.
"We appreciate the efforts the administration is undertaking to ensure the safety and security of those currently in Afghanistan but our government needs to go farther and work faster," Rep. Pramila Jayapal (D-Wash.), the chair of the Congressional Progressive Caucus, said Tuesday in a statement. "The United States must ensure refugee processing moves forward without bureaucratic delay, and with special allowances recognizing the difficulty for people to leave Afghanistan."
Jayapal also called for the State Department to expedite Special Immigrant Visas, expand Temporary Protected Status ― a short-term designation given to eligible nationals from countries affected by armed conflict or natural disaster ― and increase humanitarian aid for civilians who fled and are without shelter, food and medicine.
There are currently more than 17,000 Afghan nationals — as well as an estimated 53,000 of their family members — awaiting visa approval through the Special Immigrant Visas (SIV) program, which allows people who worked as translators and interpreters for the U.S. military or NATO in Iraq and Afghanistan to come to the U.S.
A backlog has long plagued the program, and the average processing time per visa is 800 days. Many applicants have waited years for their visas. In the months prior to withdrawing troops, Democrats and refugee groups alike have called on the Biden administration to act faster to prevent the kind of chaos currently unfolding in Afghanistan.
More than 700 SIV applicants have been evacuated from Afghanistan in the past 48 hours, Department of Defense official Army Maj. Gen. Hank Taylor said Monday in a press briefing. A total of about 2,000 of these applicant are now in the U.S.