Biden overturns Trump transgender military ban
President Biden has repealed Donald Trump's ban on transgender Americans joining the military.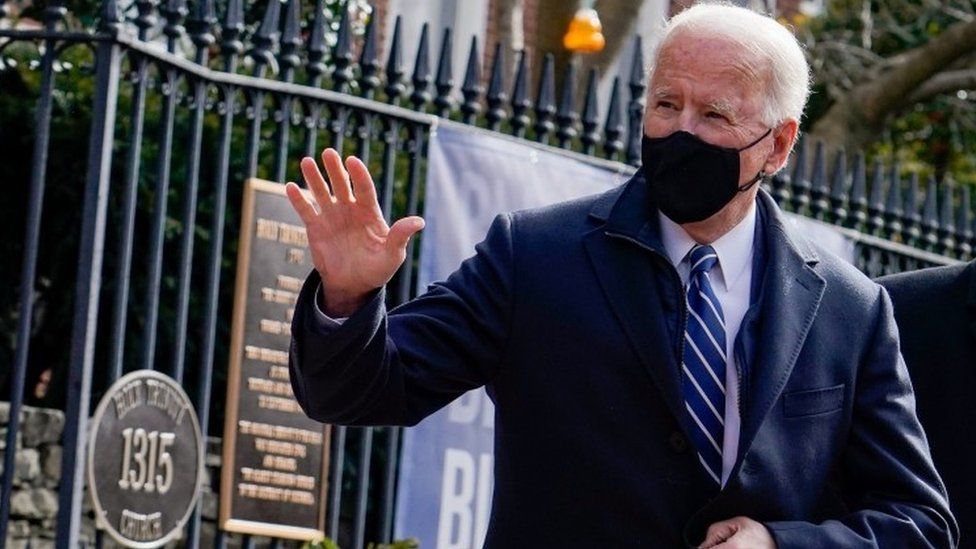 The ban was announced by Mr Trump during his first year in office.
"Transgender servicemembers will no longer be subject to the possibility of discharge or separation on the basis of gender identity," the White House said.
"President Biden believes that gender identity should not be a bar to military service, and that America's strength is found in its diversity," the White House statement added.
It comes after new Defence Secretary Lloyd Austin, a retired army general, spoke of the need to rescind the ban during his Senate confirmation hearing last week.
"If you're fit and you're qualified to serve and you can maintain the standards, you should be allowed to serve," he said.
Mr Trump announced on Twitter in 2017 that the country would no longer "accept or allow" transgender Americans to serve in the military, citing "tremendous medical costs and disruption".
The ban took effect in April 2019. Trans personnel who were already serving were allowed to continue, but new recruits were locked out.
Jim Mattis, the then defence secretary, refined the policy to limit it to individuals with a history of gender dysphoria, or when a person's biological sex and identity do not match.
President Biden repeatedly said he planned to overturn the ban.
Prior to the inauguration, a memo from Ron Klain, now the White House Chief of Staff, said Mr Biden planned to use his first full week as president "to advance equity and support communities of colour and other underserved communities".
He has already signed orders halting construction of the Mexico border wall, overturning a ban on travellers from several predominantly Muslim countries, and launching an initiative to improve racial equity.
An ally in the White House
Megha Mohan, BBC Gender and identity correspondent
Transgender rights were addressed early by the Biden campaign. He is the first president to pledge his support to the community in his victory speech.
In November, following his win, then President-elect Biden directly addressed the trans community, tweeting that his administration "will see you, listen to you, and fight for not only your safety but also the dignity and justice you have been denied".
In his broader administration, Vice-President Kamala Harris has written her pronouns she/her in her Twitter bio – a stance taken by those who believe gender identity is fluid.
Yet there was immediate resistance to the administration's progressive stance. On his first day on the job the hashtag #BidenErasedWomen trended worldwide (although later it was predominantly being used by trans rights supporters.)
The President had passed an executive order, titled "Preventing and Combating Discrimination on the Basis of Gender Identity or Sexual Orientation," which stated that women's shelters, women's athletics and healthcare should not discriminate against those who identify as women.
The move, which effectively scrapped Donald Trump's definition of gender as a person's "biological sex", drew concern from people who said women's sport would no longer be a level playing field.
The order doesn't explicitly address athletics. Transgender athletes who compete at the college and Olympic levels already are subject to special requirements from individual subcommittees.
Posts on social media also falsely attributed a quote to Joe Biden in which he supposedly says that transgender children have a right to biological transition. Mr Biden had said there should be "zero discrimination" against transgender children in an October Town Hall ahead of the election, but did not mention transitioning.
LGBT rights groups welcomed having an ally who was committed to their rights in the White House.
Today's order, a reversal of President Trump's policy that largely barred transgender individuals who had not gone through a gender reassignment process from joining the military, doubles down on Biden's commitment.
The Trump administration had said that the ban – which was overturning policies from President Obama – was largely a financial decision, not a human rights one (although a 2016 Rand Corp. study commissioned by the Defense Department said that transgender people would only have a "minimal impact"on healthcare costs.)
The Biden administration's stance is clear: that theirs is a human rights decision for a vulnerable group. At a time when several argue that women's rights are at odds with trans rights, however, keeping more than one vulnerable group happy will be a challenge.